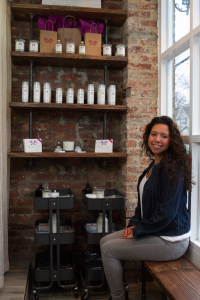 Marianella Aguirre, born and raised in Caracas, Venezuela, has always had an eye for art. She attended the Pedagogical Institute of Caracas, an institution that since 1936 has produced well-rounded and artistically inclined educators . Aguirre studied drama and theatre, specifically theatrical direction, that is why she has so effortlessly adjusted her eye from seeking to create artistic perfection on a stage, to seeking artistic perfection in the aesthetic care of all her clients. Upon arrival in New York City, she studied beauty and aesthetics and has since then honed her skills to go beyond the common beautician by specializing in the repair and renewal of skin and nails through an all-natural approach.
Aguirre is the pioneer of the "Green" manicure/pedicure that comes to the client and founder of Green Spa On The Go Mobile Spa & Green Spa on the GO Eco-Conscious Nail Studio. GSOTG was born when Aguirre noticed a void in the market for luxurious spa services that offered all natural products free of toxins and harmful chemicals.
"Green" because all of the products used are natural, non-toxic, and safe, and "On the Go" seeing that all services (massages, waxing, manicures and pedicures) are done in the comfort of your home or office.
After spending many years in high end salons and spas throughout Manhattan, Aguirre herself had developed allergies and breathing problems from inhaling harmful chemicals found in nail polish like Formaldehyde, Dibutyl Phthalate (DBP), and Toluene, not to mention the artificial fragrances, and preservatives commonly found in lotions and massage oils used in spas all over the New York City.  The goal was to bring high-end services to clients in the comfort of their own space with a high regard for their health and well-being.
Aguirre also has launched her very own line of scrubs, lotions and candles, that she has been making and using in all of her treatments.  Made by hand and with all natural, chemical-free ingredients and cruelty-free products with no preservatives. Aguirre searched far and wide for the best all natural products, but was never 100% satisfied with the results that she got. When she couldn't find in a store what she envisioned for her customers, she decided to just make it herself at home using only organic ingredients. Creating her own product line was the only way she found it possible to get something that was tailor made to both the preferences and expectations of her clients, as well as her own standards of perfection and professionalism. The entire product line is produced and sold exclusively by Green Spa on the Go.
With an A-list clientele the likes of Anna Wintour, Roger Federer, Mirka Federer, Kerry Washington, Margherita Missoni, New York Fashion Week (Thakoon, Proenza Schouler The Alabama Project, etc), the Royal family of Saudi Arabia, Prince of Qatar Sheikh Mohammed, NBA basketball players: J.R. Smith, Chris Smith and Kurt Thomas, American radio host Don Imus, Deirdre Imus founder and president of the Deirdre Imus Environmental Health Center and work on many high-end editorial shoots, Aguirre is known in the fashion world for her magic touch and absolutely perfect manicures.  It's an added cherry on top that they just happen to be good for your health and for the environment.