Spa Parties NYC and Events: A unique way to celebrate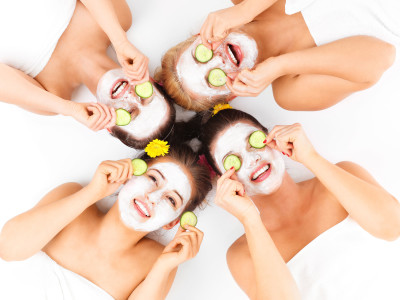 Green Spa on the Go Specialty
Birthday Parties
Bridal Showers
Baby Showers
Wedding Day
Girl's Night Out
Sweet Sixteen's
Proms
Bat Mitzvahs
Retirement Parties
Bachelorette Parties
With everything from dry cleaning to dog grooming going Mobile in a truly busy city like New York, its only natural that the mobile spa concept is now also answering the call of time-conscious New Yorkers who must have convenience and quality.
Green Spa on the Go offers all natural luxury treatments to brides-to-be or any group of girlfriends in their own home, backyard, work-place, hotel suite, party venues, weddings and more.
Our mobile spa is an amazing event resource that can be customized to accommodate any theme or party.  Imagine green beauty at your door: superior hygiene and sanitation, personalized service, and environmentally conscious products.  Rest assured that all sessions would be tailor-made to fit your specific needs.
Go "Green" with your spa party services and join the Green Spa on the Go philosophy: "Inner and outer beauty provides a pathway to a better life."
For more information about these services please contact us
List of Treatments Available for Spa Parties
Polish Changes
Basic nail color change. We wont trim cuticles or shape your nails. (10 min)
Mini Manicures
Shape and color change. (15 min)
Go Green Spa Party Manicure
Nail shaping, cuticle trimming (if need it), massage and polish. (20 min)
Pure Earth Spa  Party Manicure
Nail shaping, cuticle trimming (if need it), exfoliation (using our Organic Rooibos Tea Sugar Scrub), massage and polish. (30 min)
Mini Pedicures
Shape and color change (15 min)
Go Green Spa Party Pedicure
Nail shaping, cuticle trimming (if need it), massage and polish.(20 min)
Pure Earth Spa Party Pedicure 
Nail shaping, cuticle trimming (if need it), exfoliation with our Organic Rooibos Sugar Scrub, massage and polish. (30 min)
Chair Massage
15 min, 20 min, 30 min and/or more
Table Massage
30 min, 60 min
Facials
15 min, 30 min, 45 min, 60 min